When we built the unu.edu website we built the front page to be as flexible as possible.
The page is divided into ten content areas. Four of these are fixed meaning that the type of content displayed cannot change. The six areas on the page have more flexibility.
These six areas are the top banner, mini banners half way down the page, the publications  list that appears in the bottom middle and the quick links area in the bottom left.
A typical click on a link from the front page will result in analytics data that tells you the click came from the front page. This information is not helpful if you are looking to understand how effective your content areas are and what combination of image and headline works to drive traffic.
We wanted to understand which banner and which link actually worked and why. How long the banner was on the front page and how effective it was for how long.
To do this we introduced the use of the Google URL builder.
The URL builder works in concert with Google Analytics to deliver information regarding specific items that are clicked.
For the unu.edu website we have created a naming convention to be able to reference specific banners, what we are promoting and which institute it is for.
The screen shot below illustrates how the form is used.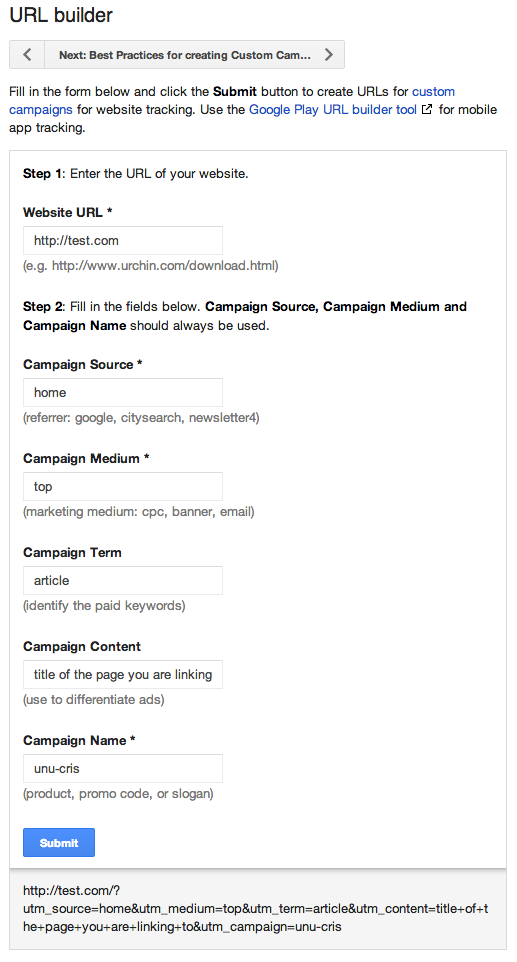 The resulting data in the Google Analytics example below gives us a real insight into how people who visit the site and click on a banner promoting a story differ from the overall group of people visiting the story by any other means (i.e. coming via google, external link or navigating through the website).